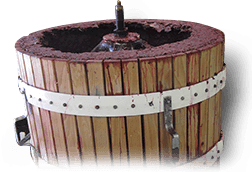 So you've never made wine…yet. We will take you through the steps to crush your grapes and bottle your signature blend in an unforgettable hands-on experience.
Much like a good wine, this process is best shared with good company. (Especially the tasting, once you bring home 240 bottles of your own personalized label. Cheers!)

WORKING TIME
Only by appointment. Please call: 516-939-WINE (9463) or email: info@wineUdesign.com
Our team loves a good time and great wine. We offer a one of a kind hands-on experience for friends and family.
Roll up your sleeves and dig in! We'll help you become a winemaker and create your very own blend to savor or share.
Experience the whole process from the first grape to the last sip with our simple four step process!
BOTTLE EXPERIENCE
• Pick a grape varietal
• Crush & press your fruit
• Pump your wine into a private barrel
• Create a customized label for 240 bottles of your personal vintage
• Cork & label your bottles
• Drink and be merry!

LEARN MORE